Keolis Appoints David Scorey as New President and CEO for North America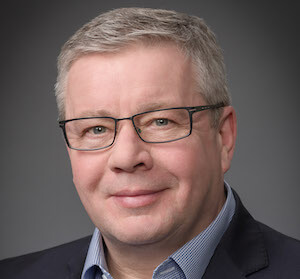 BOSTON, MA – July 8, 2021 – Today, Keolis announces the appointment of David Scorey as President and Chief Executive Officer (CEO) for Keolis North America. Scorey will oversee all Keolis operations in North America, which currently includes the United States and Canada. He takes over the position from Clément Michel, recently appointed Senior Executive Vice President of Human Resources and Transformation of Keolis Group, headquartered in Paris. With more than three decades of experience in the public transportation industry, Scorey is a proven leader in advancing organizational safety, strengthening relationships with public transit agencies, and improving the passenger experience.
"David Scorey has an unparalleled reputation and track record in the public transportation space, and we are excited to welcome him to this important role for the North America region," said Bernard Tabary, International CEO, Keolis Group. "As Keolis expands its footprint in the U.S. and Canada, we will benefit from Scorey's expertise and commitment to delivering innovative transit solutions for the region."
Scorey began his career in transportation as an apprentice mechanical engineer, moving up to a variety of supervisory and managerial positions in the industry for British Rail, Intercity West Coast, Virgin Trains, and Alstom before joining Southern Railway in 2004. In the fall of 2016, Scorey took over as General Manager of Keolis Commuter Services (KCS) in Boston, MA. At KCS, he led the operation and maintenance of the Massachusetts Bay Transportation Authority's (MBTA) commuter rail system, which carries more than 127,000 passengers daily throughout the Greater Boston area. Under his leadership at KCS, the commuter rail surpassed its ten-year average for on-time-performance by two percent and increased revenue and ridership – a testament to effective leadership and commitment to riders.
With a focus on growth, Keolis recently secured three new contracts in six months, growing the portfolio in California and Virginia along with extending Keolis' partnership to operate the Virginia Railway Express (VRE). Under Scorey's leadership at KCS, the team strengthened relationships with the MBTA, continuing to operate the largest regional rail service in the United States. The company also recently launched Keolis Evolve, an innovative new product to help public transit agencies identify true mobility demands with actionable data insights.
"We're on the precipice of a massive sea change in public transportation and mobility, and Keolis is driving that change," said Scorey. "Whether it's quality of service, equitable access, or innovative new ways to meet community's transit needs, Keolis is paving the way for innovation, and I look forward to partnering with my colleagues across the region to make a real difference for our industry. Keolis has a global reputation for caring and committing to the communities we serve, and I'm eager to support that work across North America."
About Keolis in North America
Keolis provides safe, reliable mobility services to millions of people every year. With the passenger experience at the forefront, Keolis safely carries over 121 million passengers each year on local, commuter, paratransit, and commuter rail services in North America. Keolis offers an innovative new product called Keolis Evolve to transit agencies to help identify innovative solutions that meet evolving transit demand. A company that strives to put employees first, Keolis employs over 6,300 people throughout the United States and Canada. Learn more at www.keolisna.com.
About Keolis Group
Keolis is a pioneer in developing public transport systems and works alongside public authorities who want to enhance shared mobility systems to grow the appeal and vitality of their regions. A world leader in operating automated metro and tramway systems, Keolis and its partners and subsidiaries Kisio, EFFIA, Keolis Santé and Cykleo support the core business with innovations offering new and bespoke shared mobility solutions for modes including trains, buses and coaches, trolleybuses, shared car solutions, river and sea shuttle services, bike share services, car sharing, fully electric driverless shuttles and urban cable cars. In France, Keolis is the second largest provider of parking management solutions through its subsidiary EFFIA, and the country's leader in medical transport since the creation of Keolis Santé in July 2017. The Group is 70%-owned by SNCF and 30%-owned by the Caisse de Dépôt et Placement du Québec (Quebec Deposit and Investment Fund) and employs 68,500 people in 16 countries. In 2020, it posted revenue of €6.1 billion. In 2019, 3.4 billion passengers used one of Keolis' shared mobility services. www.keolis.com
* Australia, Belgium, Canada, China, Denmark, France, Germany, India, the Netherlands, Norway, Qatar, Senegal, Sweden, the United Arab Emirates, the United Kingdom and the United States.
# # #
Contact:
Jenny Fahlbush,
VP, Marketing, Communications, and Corporate Affairs