Keolis Appoints Ryan Adams as New Executive Vice President of Market Development and Innovation for the North American region
An industry veteran, Adams brings experience to growing commercial opportunities, enhancing Keolis' brand reputation, and delivering innovative solutions with partners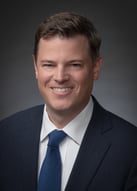 BOSTON – February 1, 2022 - Keolis North America (Keolis) today announces the appointment of Ryan Adams as Executive Vice President of Market Development and Innovation effective immediately. Ryan brings two decades of deep experience across transit, finance, and hospitality, which will be a valuable addition to the Keolis North America Executive Committee. His passion for shared mobility and innovative solutions for the sector will help drive Keolis' development of new partnerships, enhanced brand awareness, and innovations that benefit passengers.
As EVP of market development and innovation, Ryan will be accountable for further enhancing Keolis' hallmark as an industry disruptor with an intense focus on strong partnerships, innovations that excite, and mobility-enabled community impacts.
"Ryan's focus on innovation and partnerships will help Keolis to further modernize transit systems and develop new solutions that will benefit passengers and their communities," said David Scorey, President and CEO, Keolis North America. "This is a role that requires exactly the level of passion, energy, and intellectual curiosity that Ryan has shown."
Ryan joined Keolis in 2012. He most recently served as senior vice president of strategic development, where he and his team added significant growth to the Keolis portfolio through new partnerships with public transit agencies across the United States. During his tenure at Keolis, Ryan successfully oversaw the company's transit operations in Northern California, driving operational improvements, and leading the development of key business improvement programs. Ryan also implemented business intelligence systems to deliver actionable insights into the company's operating performance, facilitating continuous improvement in safety, maintenance, and operational efficiency.
In 2015, Ryan participated in the industry's premier leadership development program, Leadership APTA, through the American Public Transit Association, where he and fellow transit executives focused on emerging innovations in mobility. Ryan was also named to Mass Transit Magazine's Top 40 under 40 list in 2015.
"Keolis has a reputation for delivering safe, efficient, and sustainable mobility solutions to enhance everyday life in the communities we serve. I look forward to continuing this work with the Keolis North America team, our valued partners, and the industry at large," said Ryan Adams.