Keolis Awarded Contract to Operate Bus Services for Greensboro Transit Authority
Keolis to operate and manage bus network delivering around 4 million passenger trips per year starting in January 2019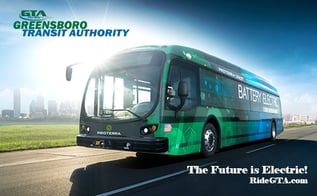 GREENSBORO, NC., October 11 – Keolis, a global leader in managing passenger transportation systems, has been awarded a $20 million-a-year contract to operate the Greensboro Transit Authority's (GTA) fixed-route bus and paratransit services. The fixed route service comprises 16 routes and five Higher Education Area Transit (HEAT) routes, delivering approximately 3.8 million passenger trips annually. GTA's paratransit services provide an additional 250,000 trips per year.
The 3.5-year contract with two one-year options to operate Greensboro's transit network includes safety management and training, bus maintenance and repair, fare collection and bilingual customer service support (English and Spanish), just some of the responsibilities detailed in Keolis' scope of work.
"Keolis and the GTA both believe in the power that sustainable public transit can yield for communities. We are excited to serve this vibrant city with strong economic growth and truly believe our partnership with the GTA will make a positive impact," said Steve Shaw, President & CEO at Keolis Transit America. "We are inspired by the potential to provide world-class transportation services to meet the evolving needs of the Greensboro community."
The current bus fleet will be modernized by the GTA with more environmentally sustainable vehicles through the introduction of electric buses. Starting November 2018, electric Proterra buses will replace vehicles in the 43-bus fleet. By March 2019, 14 electric buses will be in operation with aspirations to eventually have a fully electric fleet.
Keolis operates public transport networks for 300 transport authorities in 16 countries on four continents around the world, including 12 modes of transportation. In the United States, Keolis currently operates transit services in five states; Virginia, Florida, Massachusetts, Nevada, and California. These services span local and express fixed-route buses, paratransit, call center operations, media and fare sales, taxis, shuttles, commuter rail, and the nation's first autonomous shuttle to operate on open streets in Las Vegas.
"Operating the largest public transit system in the Triad, we are continually looking to enhance our services to meet the growing public transportation needs in Greensboro," said Bruce Adams, Public Transportation Manager. "Keolis has a proven track record for the successful delivery of operations and maintenance services and is eager to demonstrate what they can bring to our area. The GTA Board and City staff look forward to new thinking…and new processes that will take us to a higher level in service for our riders and the overall community."
In close collaboration with the GTA, Keolis welcomes the opportunity to meet the needs of the growing Greensboro community and support the Mobility Greensboro 2040 Plan. With the successful introduction of an electric fleet and by implementing technological innovations such as Mobileye for collision avoidance, Keolis' proprietary Dispatch Control System (DCS) for optimal driver scheduling and vehicle readiness, and DriveCam to improve driver behavior. Keolis is eager to help GTA modernize the operation while supporting their efforts to restore and grow ridership.
To learn more about Keolis' operations in North America, visit: https://www.keolisnorthamerica.com/map-location/
###
About Keolis
Leading the way in public transport, Keolis partners with public decision makers to make shared mobility an asset for cities and their communities. Keolis adopts an innovative approach to develop new forms of shared and customized mobility, and reinforce its core business across a range of transport modes including trains, buses, coaches, trolleybuses, shared private hire vehicles, river shuttles, ferries, cycles, car sharing services, electric autonomous vehicles and urban cable cars. Keolis moves more than 3 billion passengers a year worldwide on its transportation systems. Learn more about how Keolis and its 60,000 employees are "Thinking Like a Passenger" at www.keolisnorthamerica.com
About Greensboro Department of Transportation
The Greensboro Department of Transportation (GDOT) seeks to increase public safety and mobility through the effective planning and delivery of transportation services and operation of municipal transit. For more information about GDOT, contact us at (336) 373-GDOT (4368) or visit www.greensboro-nc.gov/gdot
Keolis North America Contact
Christopher Barker
Cell: 480-737-2907
Greensboro Transit Authority Contact
Kevin Elwood
kevin.elwood@greensboro-nc.gov
Tel.: 336-412-6309