Keolis Awarded 5-Year Extension of VRE Contract
The VRE Operating Board has awarded Keolis a five-year extension to its current contract to operate the commuter rail in Central and Northern Virginia and the Washington, D.C. area.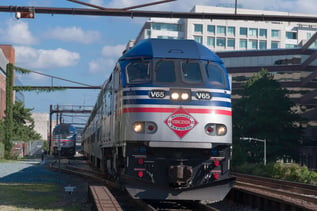 WASHINGTON, DC – June 5, 2020 – Keolis has been operating the Virginia Railway Express (VRE) on behalf of the Northern Virginia and the Potomac and Rappahannock Transportation commissions since 2010. The VRE provides commuter-oriented rail service from the Central and Northern Virginia suburbs to Alexandria, Crystal City, and downtown Washington, D.C., along the I-66 and I-95 corridors. Keolis started VRE operations in 2010 and has 110 employees dedicated to VRE. This was Keolis' second extension of the contract.
Keolis' 110 employees operate and maintain the 20 locomotives and 100 cars in service. The network is 145 km long and features two lines. Presently, the fleet is composed of Gallery IV Cars and Trailers. The VRE service was operating 32 daily trains with approximately 20,000 riders per day as of March 2020. VRE also will increase the maintenance services contract authorization for fiscal year 2021. The work performed under this contract includes lifecycle maintenance and extensive rolling stock repair through a task order process, as well as daily and periodic servicing, inspection and repairs of locomotives, passenger railcars and maintenance facilities.
Keolis implemented customized, individual safety training for each employee that is unique in the industry and creating a new standard. Due to these training efforts, Keolis' safety record for the VRE has been impeccable with no lost time employee injuries for the past four years.
''We are honored and delighted that the VRE has entrusted Keolis to operate their services for five more years, which will bring us to 15 years," said Keolis North America President and CEO Clement Michel. "Over the past few years, the VRE has gone through exciting changes and made significant investments in the communities we serve. We look forward to continuing this partnership as VRE goes through further changes and to provide safe and reliable services for its 20,000 daily riders."
"We are pleased to continue our relationship with Keolis," said VRE Operations Board Chairman Gary Skinner. "Their train crews and maintenance staff partner with us daily to ensure the safety, health and comfort of our passengers. We appreciate their commitment and dedication to our organization and those we serve."
###
Keolis in North America
Keolis has been present in North America since 2002, where it carries 116 million passengers on modes such as fixed route, paratransit, tram, and commuter rail services in 21 cities. Keolis employs 6,000 people in the U.S. and Canada.
About Keolis
Keolis is a pioneer in developing public transport systems and works alongside public decision-makers who want to turn shared mobility systems into levers to enhance the appeal and vitality of their regions. A world leader in operating automated metro and tramway systems, Keolis is supported by a sustained and open innovative policy alongside all of its partners and subsidiaries – Kisio, EFFIA, Keolis Santé and Cykleo – to bolster its core business and develop new innovative and bespoke shared mobility solutions, including trains, buses and coaches, trolleybuses, shared car solutions, river and sea shuttle services, bike share services, car sharing, fully electric driverless shuttles and urban cable cars. In France, Keolis is the second largest parking company through its subsidiary EFFIA, and the country's leading medical transport solution since the creation of Keolis Santé in July 2017.
The Group is 70%-owned by SNCF and 30%-owned by the Caisse de Dépôt et Placement du Québec (Quebec Deposit and Investment Fund), and employs some 65,000 people in 16 countries. In 2018, it posted revenue of €5.9 billion. In 2018, 3.3 billion passengers used one of Keolis' shared mobility services. www.keolis.com
* Australia, Belgium, Canada, China, Denmark, France, Germany, India, Luxembourg, the Netherlands, Norway, Qatar, Senegal, Sweden, the United Kingdom and the United States.
Media Contact
Henri Vies
henri@getproofusa.com