Orléans Express Expands Service to Include Montreal-Ottawa Route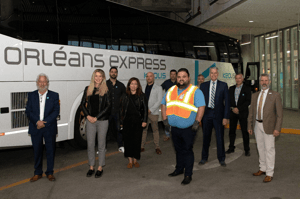 Keolis launches its Montréal, Gatineau, and Ottawa route, rekindling hope that things are getting back to normal, which is thrilling news for both employees and passengers!
MONTREAL, QC – During a ceremony at the Montreal Bus Station on July 8, Keolis Canada CEO Pierre-Paul Pharand spoke to a small group of people enjoying coffee and croissants to celebrate a special occasion: the launch of the Montreal-Ottawa route by coach operator Orléans Express. According to those attending the event, the launch is a strong sign that the public health situation is improving and that business activities are picking up speed. Everyone agreed that these developments made for great news to share!
New Montreal-Ottawa departures: Orléans Express is there for you every day!
Between 6:30 and 7 AM, Keolis Canada's senior management was gathered at the Montreal Bus Station to mark the first departure for the Montreal-Ottawa service that Keolis now offers under its Orléans Express banner. Departures are offered every day at the start and at the end of the day to serve a customer base consisting mainly of weekday commuters, but also tourists wishing to explore these cities and enjoy their year-round attractions.

"What a great morning and what a pleasure it is to be with you as we get back on the road! Intercity travel has suffered in the past year, and it's high time we resumed our activities to enable people to move about easily," said Pierre-Paul Pharand, whose hope is to see continued public-health improvement, thereby allowing the coach operator to serve more and more passengers.
The company also wanted to celebrate this initial contact with its customers on board the coach. So it was in a festive spirit that passengers received personalized shortbread packages made by a local company, Sweet Isabelle.
A human network at the centre of the Montreal-Ottawa connection
In his opening speech, the CEO extended heartfelt thanks to the people who have made it possible to deploy and run this new service, namely, the business strategy team, corporate partners, and prep-and-operations personnel. He candidly stated that Keolis's strength resides in its teams' efforts, consistency, involvement, and professionalism.
Mr. Pharand also wanted two passengers to take part in the symbolic ribbon-cutting ceremony. After all, while Keolis is a strong and united team and network, without its passengers, it would not be the extraordinary company that it is!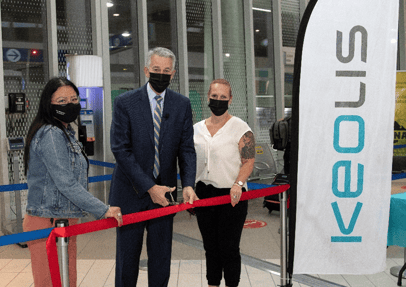 With a winning smile, the very first customer to purchase a ticket for the new Montréal-Ottawa route said the experience was excellent and the trip went smoothly.
###
The driver of the 7 AM departure from Montreal to Ottawa, Jean-Philippe Tremblay, had only good things to say on this first morning.
"Since joining Keolis in 2019, I've had the opportunity to work in various networks. Having to stop work due to the pandemic turned out to be a break that strengthened my ties with my employer. I was assigned an urban transport mandate for several months and then worked in the control centre, where I discovered another facet of the job in this company department that provides support to drivers on the road. I didn't hesitate for a second when I was offered a position as an intercity driver. I love being behind the wheel of a coach!"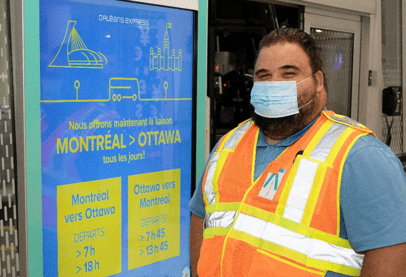 The driver also revealed that he was delighted to connect once again with what he loves most about his job: customer contact, driving, the open road, and landscapes. He admitted to being thrilled about this new start and extremely happy to see that intercity travel is finally taking off.
Robert Simms, the person in charge of the Ottawa-Montreal morning trip, was simply overjoyed. As a driver for the company for the past 24 years, his experience on the many different Orléans Express routes in the province of Quebec enabled him to enjoy this new experience without undue worries.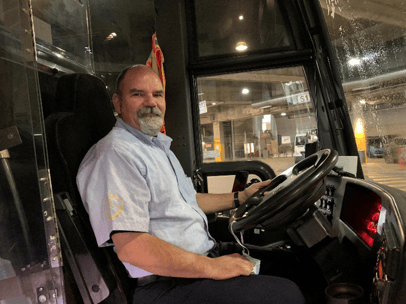 "I love the open road passionately! I love meeting new people and, of course, I love driving, driving, and driving! I'm sure passengers will come back in huge numbers, and we'll be as busy as ever. The sun's beginning to rise on a new day."
###
"We develop mobility solutions in keeping with evolving passenger-travel preferences and community expectations, and we're happy to provide an intercity transport solution on this route where no other coach service is available," said Pierre-Paul Pharand in closing.

Daily service between Montreal, Gatineau, and Ottawa represents an important component in the resumption of public transit. As we return to normal, Keolis Canada, through its subsidiary Orléans Express, wants to contribute in its own way to economic and tourism revival by responding to the demands of the business world, schools, and the tourism industry for coach service on this route.
###
About Keolis Canada

Keolis Canada provides mobility services to millions of Canadians every year. Tailored to the needs of its clients and its passengers, Keolis Canada operates urban and intercity networks, transports students, people with special needs, air travellers, and delivers parcels. With 1,000 transportation professionals, a fleet of city buses, coaches and trams, Keolis Canada helps more than 20 million people get to their destination every year in a safe and enjoyable manner.

https://www.keolis.ca