Metro Magazine's Interview with Chris Barker on Changing Mobility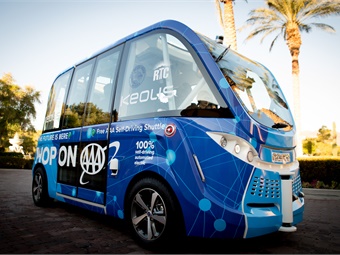 Metro Magazine recently interviewed Chris Barker, vice president of new mobility, communications and marketing, about changing mobility models in North America. Read an excerpt of Chris' remarks below.
Keolis North America
Chris Barker, VP, New Mobility, Communications and Marketing
How is Keolis adapting what it is doing in Europe for use here in the U.S.?
In France, we operate complete multi-modal transportation systems for cities such as Lyon and Bordeaux, which includes SNCF heavy rail and high-speed TGV trains coming into those cities. Within the cities we also manage and operate regional commuter rail; light rail; bus; autonomous shuttles; taxis; and bike-share services. And in Bordeaux, we provide water taxi service as well.
Part of what we've been doing in the last several years is applying the lessons learned in how you connect and manage a truly intermodal transport network in Europe and introduce some of those ideas and best practices for our North American transportation network operations.
Our experience in running complex networks around the world is helpful in how we guide better connected and more efficient transportation services in North America.
In addition to our core rail, bus, paratransit, and taxi services, we've had a lot of interest in our new autonomous shuttle. In November of last year, we launched the first autonomous shuttle in North America to operate on open roads in Las Vegas.
This year-long pilot project with our partners NAVYA and AAA has generated a lot of attention in how we're utilizing an electric, autonomous, multi-passenger shuttle to better connect pedestrians to multiple locations within a city. We're now getting inquiries from cities, as well as universities and a range of other venues — where they want a clean energy, lower noise pollution option for providing transportation in areas where there are limited vehicle parking options.
Read the full interview here.