Keolis Grand River and Conestoga College Award Scholarship for Women in STEM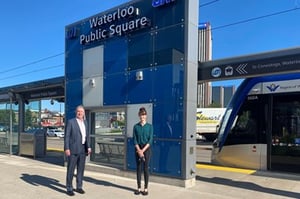 Keolis Grand River has awarded its fourth Keolis Scholarship in collaboration with Conestoga College for women in Science, Technology, Engineering and Mathematics (STEM). Congratulations to the 2021 winner, Pam Bennett!
WATERLOO, ON – Keolis, the operator and maintainer of the ION Light Rail Transit system in the Region of Waterloo, awards this Scholarship as part of its commitment to encourage greater women's participation in STEM studies, improve women's representation in technical and trades occupations and promote employee diversity in the transportation sector.
At the time of the creation of the Maintenance team at Keolis Grand River, the chronic underrepresentation of women in technical and trades roles was such that Keolis felt concerned for future generations.
Wishing to ensure balance, equity and diversity in its teams as well as in the job market as a whole, Keolis decided to provide real and durable support. This Scholarship was thus created to encourage more female students to choose the Electrical Industrial Technician/Electro-Mechanical Maintenance program at Conestoga College.

"It quickly became apparent that there was a supply issue and that we needed to implement long-term recruitment strategies, in order to increase the number of female applicants before we could begin to rectify the gender imbalance in our Maintenance department, and have its employee composition closer to that of our other departments" said Adam Hahn, Director of Human Resources at Keolis Grand River.

Rachel Banham, Chair in the School of Trades and Apprenticeship at Conestoga College, confirms these facts and welcomes Keolis'' involvement:
"There is a critical shortage of people pursuing careers in the skills trades and many well paid and rewarding positions are unfilled. It is essential then that more women understand and pursue these opportunities, as women continue to be significantly underrepresented. In the electrical programs that I oversee, only 8% of our students are women."

The Keolis Scholarship is open to female students registered in full-time programs, and applicants are selected based on their academic performance.

Keolis, a key actor in the implementation of solutions to encourage greater women's participation in technical and trades occupations throughout the Region of Waterloo
Pam Bennett, the winner of this year's Scholarship, shares the same values as Keolis and Conestoga College: to strive to play a more active role in encouraging other women to choose a career as an electrician. When asked what should be done to further encourage women to apply for technical programs such as industrial electrical engineering or electro-mechanical maintenance programs, Pam answered without hesitation that we need women as role models in these types of jobs to inspire others and break down stereotypes. Raising awareness must continue, but nothing is more efficient than directly helping women undertaking this kind of academic journey: it makes long-term career possibilities a reality, and is very motivational!
Like other winners before her, Pam Bennett will use the Scholarship to pay part of her tuition fees, and she truly appreciates the help.
The Keolis Scholarship fund has a direct positive effect both on the student community of Conestoga College and on the job market
Industry-sponsored scholarships such as the one created by Keolis help:
✔️Raise the profile of skilled trades
✔️Send a strong message that employers like Keolis are welcoming women into their workforce
✔️Let women know that skilled trades are a great career choice for them
✔️Show that employers like Keolis are serious about attracting, supporting and hiring women.
And it doesn't stop there! Keolis opens its doors to female students who wish to live a complete work experience

Keolis Grand River is also providing opportunities to young women who are pursuing careers in technical and trades occupations through paid co-op positions. These positions give students the opportunity to apply what they learn at school in a real work environment and familiarize themselves with the transportation and mobility industry.

Another step in supporting increased representation of women and minorities in the urban and passenger transportation sectors – and Keolis keeps on going!

For Keolis, this Scholarship fund is only the first step towards a global solution. Improving women's representation has been identified as a critical focus area for the transportation company, and it will continue to see diversity and inclusion as key strategic priorities to ensure that Keolis as an organization, as well as its employees, are representative of the community they serve.
With the firm intention of increasing awareness about this initiative, Keolis is currently in talks with Conestoga College to support other programs that inspire greater participation from women in its industry from an early stage. Are you ready for next year? Keolis will be there to help women throughout their career and hopes to see many more successful candidates in the future!


###
About Keolis Canada

Keolis Canada provides mobility services to millions of Canadians every year. Tailored to the needs of its clients and its passengers, Keolis Canada operates urban and intercity networks, transports students, people with special needs, air travellers, and delivers parcels. With 1,000 transportation professionals, a fleet of city buses, coaches and trams, Keolis Canada helps more than 20 million people get to their destination every year in a safe and enjoyable manner.

https://www.keolis.ca