Keolis Welcomes Jenny Fahlbush as New VP of Corporate Affairs and Client Engagement
Dynamic, innovative leader to design new engagement strategies for global transportation operator in North America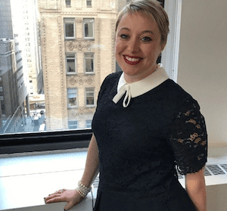 OCTOBER 6TH, BOSTON, MA. – Keolis North America is pleased to announce the appointment of Jenny Fahlbush as its new Vice President of Corporate Affairs and Client Engagement for North America. Fahlbush brings more than two decades of experience in marketing and public relations with a proven record of delivering brand-aligned marketing programs across numerous industries.
Throughout her career, Fahlbush has worked with B2B and B2C brands to build strong customer engagement strategies leveraging brand, external communications, demand generation, content marketing, internal communications and product marketing. She began her career in government, working on congressional campaigns and as briefing director for the Office of the Vice President. More recently, Fahlbush was Vice President of Marketing for IDG Communications, Inc. and Killi where she led global go-to-market strategies, designed and executed user acquisition campaigns, and developed community engagement programs.
"We are very excited to have someone of Jenny's unique experience joining Keolis and the transit industry at large. Her diverse background in customer-centric marketing and brand management will be critical in guiding riders back to public transit," noted Keolis North America Executive Vice President of Market Development and Innovation Rahul Kumar.
Prior to joining Keolis, Fahlbush was Vice President of Marketing for New York-based Ad Tech company Jun Group. Fahlbush led a stunning four-month rebrand of the company, including a new visual identity, employee experience, and messaging. She also has experience leading marketing teams in the media and hospitality industries.
"I'm excited to join a team with such a strong commitment to innovation and serving the needs of communities across North America," said Fahlbush. "Keolis has an amazing story to tell, and I look forward to partnering with my colleagues across the region to highlight the great work they do each and every day."
###
About Keolis in North America
Keolis provides safe, reliable mobility services to millions of passengers every year, while employing over 6,000 people in North America. With the rider experience at the forefront, Keolis safely carries over 116 million passengers each year on local, commuter, paratransit, and commuter rail services throughout the U.S. and Canada.
About Keolis Group
The Keolis Group is a pioneer in developing public transport systems and works alongside public decision-makers who want to turn shared mobility systems into levers to enhance the appeal and vitality of their regions. A world leader in operating automated metro and tramway systems, Keolis is supported by a sustained and open innovative policy alongside all of its partners and subsidiaries – Kisio, EFFIA, Keolis Santé and Cykleo – to bolster its core business and develop new innovative and bespoke shared mobility solutions, including trains, buses and coaches, trolleybuses, shared car solutions, river and sea shuttle services, bike share services, car sharing, fully electric driverless shuttles and urban cable cars. In France, Keolis is the second largest parking company through its subsidiary EFFIA, and the country's leading medical transport solution since the creation of Keolis Santé in July 2017.
The Group is 70%-owned by SNCF and 30%-owned by the Caisse de Dépôt et Placement du Québec (Quebec Deposit and Investment Fund), and employs some 68,500 people in 16 countries. In 2019, it posted revenue of €6.5 billion. In 2019, 3.4 billion passengers used one of Keolis' shared mobility services. www.keolis.com
* Australia, Belgium, Canada, China, Denmark, France, Germany, India, Luxembourg, the Netherlands, Norway, Qatar, Senegal, Sweden, the United Kingdom and the United States.