Commuter Rail Track Repairs Complete in Leominster
Regular Service Returns Today
September 19, 2023, Boston – The MBTA and Keolis Commuter Services (Keolis), the operating partner for the MBTA Commuter Rail, today announced that repairs to the Commuter Rail tracks in Leominster will be complete in time for today's evening commute. Regularly scheduled passenger service will resume on one track later this morning, beginning with train 411 the 10:30 a.m. outbound train from North Station. Commuter Rail tracks were damaged when severe flash flooding on September 11 overwhelmed the City's drainage system and washed away the ground under both Commuter Rail tracks near Leominster Station. Alternative bus service has been in place for the past week while repairs were underway.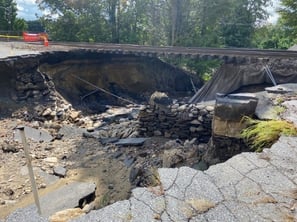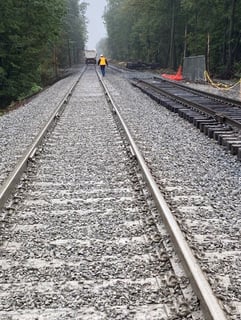 In coordination with the MBTA, Keolis crews have been on-site working around the clock to excavate, stabilize and rebuild the area. Keolis crews placed more than 3,000 tons of stone to replace the washed-out earth and rebuild the railroad track bed. In partnership with the City of Leominster, Keolis crews laid 188 feet of concrete pipe to repair and improve the drainage system in the area.
"Riders depend on our services and I couldn't be more proud of the decisions made to ensure safety during the storm but also to restore service so quickly," said
MBTA General Manager & CEO Phillip Eng
.  "MBTA Railroad Operations, Keolis and the crews worked tirelessly to rebuild the infrastructure caused by the severe flooding that affected so many.  I thank the residents of Leominster and our riders for their patience.  As we begin to operate trains service again, our thoughts go out to all the communities impacted by these devastating floods who are still recovering."
"Our thoughts remain with the Leominster community as they work through recovery from the devastating impacts of the floods last week. We have partnered with the City of Leominster to meet the needs of the community in restoring Commuter Rail service and improving the underlying drainage system," said
Abdellah Chajai, CEO and GM of Keolis Commuter Service.
"Thank you to all who worked to make these significant repairs in a matter of days, allowing us to restore regular service for passengers in Leominster and Fitchburg."
Passengers can stay connected with Commuter Rail by calling customer service at 617-222-3200, following @MBTA_CR on X (Twitter) or signing up for
T-Alerts
.
Keolis Commuter Services
operates and maintains the Massachusetts Bay Transportation Authority's commuter rail system, the sixth largest commuter rail operation in North America. Keolis Commuter Services delivers operational excellence to more than 400,000 MBTA Commuter Rail passengers a week, with a focus on safety, reliability, and excellent customer service. KCS is a subsidiary of Keolis North America (KNA), both headquartered in Boston, and employs approximately 2,400 people throughout the region. KCS and KNA are part of Keolis Group, an innovative global leader in transit services with more than a century of passenger transportation experience and operations in 13 countries.
###