City Of Las Vegas Launches Free Community Shuttle From Homeless Courtyard To Social Service Providers Across The Valley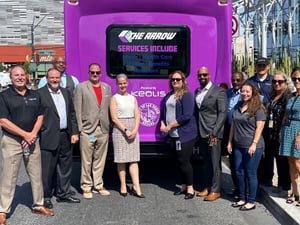 Seven-Day-A-Week Service Will Connect Homeless Residents To Essential Service Sites
LAS VEGAS – Today, the city of Las Vegas announced the launch of "The Arrow," a free shuttle service that will connect the Courtyard Homeless Resource Center at 314 Foremaster Lane to 19 essential public and private service sites across the valley. Video footage of the new shuttle is available at https://vimeo.com/575586080/ce580b88d9.
Specially wrapped 24-seat shuttle buses will operate on two distinct routes covering both the east and west sides of the valley. The two-route service, operated by Keolis Transit, will run seven days a week from 8:30 a.m. to 6:30 p.m., with the first and last stop at the Courtyard Homeless Resource Center.
"The city of Las Vegas strives to help those experiencing homelessness to become healthy, housed and hired, and the new Arrow shuttle service is another tool to help connect these individuals with services," Mayor Carolyn G. Goodman said. "This free service will help those at the Courtyard Homeless Resource Center access health care, government agencies and service providers daily.
"Thank you to Keolis for partnering with the city to offer this much-needed service to our most vulnerable citizens," Councilman Cedric Crear said. "Our goal is to enable those experiencing homelessness to find a way to break the cycle they find themselves in. This is very difficult to accomplish without the connection to services, and the Arrow is that connector."
The western route will include drop-off and pick-up stops at the Las Vegas Rescue Mission, Clark County Social Services, Southwest Medical, the Southern Nevada Health District, the Nevada Behavioral Health Support Center, the Social Security Administration office in North Las Vegas, Foundation for an Independent Tomorrow, the Nevada Division of Welfare and Supportive Services and the Salvation Army.
The eastern route will include stops at the WestCare Community Triage Center and Summit Support, Legal Aid of Southern Nevada, Family Promise, the Goodwill store and Career Center, HELP of Southern Nevada, the Animal Foundation and NV Job Connect on North Las Vegas Blvd. before returning to the Courtyard.
Each route will run approximately an hour and a half, with reduced services on weekends and holidays. Keolis Transit, currently a contractor for transit services for the Regional Transportation Commission of Southern Nevada, will operate the new Arrow shuttle service.
"We are excited about partnering with the city of Las Vegas on this groundbreaking project that will positively impact hundreds of lives. We hope it will serve as an inspiration for other communities to follow," said Marc Perla, Keolis general manager for Southern Nevada.
###
About Keolis Transit America
Keolis is a leading public transit operator in North America, Europe and around the world, established in 13 countries on four continents, with more than 52,000 employees and with $6.7 billion in annual revenue. In the United States, Keolis Transit America provides a full spectrum of transportation services including operation of fixed-route transportation systems, paratransit and airport shuttle operations, fleet management and maintenance, and logistics and routing services. The Keolis approach focuses on customer service, continuous improvements in safety, quality and innovation, and a commitment to teamwork and professional development. For more information visit www.keolistransit.com.
Media Contacts:
Margaret Kurtz, city of Las Vegas: 702-229-6993
Bill Marion, Keolis Transit America: 702-283-0813