AAA and Keolis Launch Nation's First Public Self-Driving Shuttle in Downtown Las Vegas
The AAA Free Self-Driving shuttle, operated by Keolis, is the largest self-driving pilot project in U.S. to operate in live traffic; AAA will study consumer responses to advance technology that could dramatically reduce traffic fatalities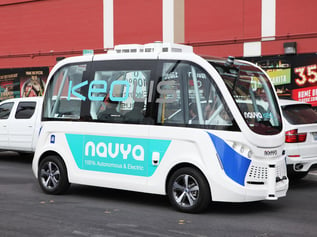 LAS VEGAS, Nov. 8, 2017 – AAA, in partnership with Keolis, just brought the future of transportation to America, and now the century-old auto club wants to hear from you.
AAA Northern California, Nevada & Utah (AAA) is sponsoring the nation's first self-driving shuttle pilot project geared specifically for the public. Over the course of a year, the self-driving shuttle aims at providing a quarter-million residents and visitors of Las Vegas with first-hand experience using autonomous vehicle (AV) technology, exposing most riders to the technology for the first time. This pilot builds on Keolis' limited shuttle launch in downtown Las Vegas in early 2017; today's launch will be the first self-driving vehicle to be fully integrated with a city's traffic infrastructure.
In addition to studying how the shuttle interacts in a live traffic environment in downtown Las Vegas' busy Innovation District, AAA will survey riders on their experience in order to understand why a large percentage of consumers remain wary of driverless technology, and whether a personal experience changes their perception. AAA partnered with the city of Las Vegas, the Regional Transportation Commission of Southern Nevada (RTC) and Keolis North America (Keolis), which will operate and maintain the NAVYA Arma fully electric shuttle.
Tim Condon, President & CEO of AAA Northern California, Nevada & Utah, said AV technology is poised to bring unprecedented mobility independence to Americans, in addition to improving traffic safety.
"From the horseless carriage to the driverless car, AAA has built its legacy on making travel safer, easier, and more enjoyable," said Tim Condon, President & CEO of AAA Northern California, Nevada & Utah. "AAA believes autonomous technology has the potential to save lives and improve traffic safety. We believe our Las Vegas pilot will allow the public to experience this exciting technology for themselves and allow their voice to be heard as AAA studies how autonomous transportation can be safely deployed for public use."
The shuttle is manufactured by NAVYA, comes equipped with LiDAR technology, GPS, cameras, and will seat 8 passengers with seatbelts. Safety features include the ability to automatically and immediately brake in the event of a pedestrian crossing in the path of the vehicle. In addition to surveying the shuttle's riders, AAA will examine how others sharing the streets react to it — including pedestrians and cyclists. AAA chose Las Vegas for the launch because of the state's progressive regulations on autonomous vehicles, heavy investment in innovation, the high volume of visitors and a sunny, dry climate that's favorable for testing new driving technology, said Mayor Carolyn G. Goodman.
"Las Vegas is a global leader in innovation and sustainability and we are excited to partner with AAA, Keolis and the RTC to bring the NAVYA autonomous shuttle back to Las Vegas," Mayor Goodman said. "The shuttle will be a great fit in fabulous downtown Las Vegas within our Innovation District where we are forerunners in testing new technologies."
"As a global provider of innovative public transportation services, we're honored to be working with the city of Las Vegas, the Southern Nevada Regional Transportation Commission, AAA and our NAVYA partners to test autonomous shuttle services with residents and visitors of Las Vegas", said Keolis North America President and CEO Clement Michel. "Today marks a historic first step in introducing the first autonomous shuttles to operate on an expanded network of city streets in North America. We're excited to demonstrate to the residents and visitors of Las Vegas new technology that will enhance their transportation experiences in the future."
In addition to the pilot in Las Vegas, AAA also partnered with GoMentum Station in Concord, California to study vehicles being tested at the nation's largest secure proving grounds for connected and autonomous technology.
How the Self-Driving Shuttle Pilot Program Works
Covering a 0.6-mile loop in the Fremont East "Innovation District" of downtown Las Vegas, the all-electric, self-driving shuttle offers free rides for people to experience autonomous transportation in a real-world environment. The shuttle is the country's first autonomous shuttle to be fully integrated with "smart city" infrastructure, communicating with traffic signals to improve safety and traffic flow. The shuttle is operated and maintained by Keolis, which also led the efforts to integrate its vehicle into the smart city infrastructure, in partnership with the City of Las Vegas and NAVYA.
The shuttle can be boarded at any of the AV shuttle's three stops located on Fremont St and Carson St between Las Vegas Blvd and 8th Street.
AAA is proud to work with the Las Vegas community on this program. The auto club will donate $1 per passenger during the pilot program for a minimum donation of $100,000 to the Las Vegas Victims' Fund and its efforts to support the needs of people impacted by the Las Vegas mass shooting on October 1, 2017.
About AAA NCNU
AAA Northern California, Nevada & Utah offers a wide array of automotive, travel, insurance, DMV, financial services and discounts to more than 5.7 million members. AAA has been an advocate for the safety and security of all travelers since it was founded over a century ago.
About Las Vegas
Las Vegas is an iconic city that is known around the world. The city is committed to sustainability and innovation, from its alternative-fueled fleet to its reliance on solar energy and recycling programs. The city's Innovation District tests groundbreaking technology in the areas of alternative energy, citizen participation, transportation and social infrastructure. For more information visit www.innovate.vegas.
About Keolis
Keolis is a global leader in managing passenger transportation systems throughout the world, transporting 3 billion passengers a year via trains, buses, shuttles and taxis. Learn more about how Keolis and its 60,000 employees are always "Thinking Like A Passenger" at www.keolisnorthamerica.com.
About the Regional Transportation Commission of Southern Nevada (RTC)
The Regional Transportation Commission of Southern Nevada (RTC) is the transit authority, transportation planning organization, regional traffic management agency and administrator of Southern Nevada Strong, the regional planning effort for the Las Vegas valley. The RTC's vision is to provide a safe, convenient and effective regional transportation system that enhances mobility and air quality for citizens and visitors. For more information about the RTC and its major initiatives, visit rtcsnv.com.
Keolis Press Contact:
Christopher Barker – VP of New Mobility, Communications and Marketing
Chris.barker@keolisna.com
Tel: 480-737-2907