15 Transport and Tech Companies Sign the Shared Mobility Principles for Livable Cities
Didi, Lyft, Ola, Uber, Via, Zipcar among companies to announce joint vision for the future of cities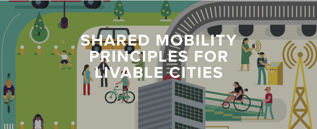 February 1, 2018—Fifteen of the world's leading transport and technology companies signed the Shared Mobility Principles for Livable Cities today, pledging to prioritize people over vehicles, lower emissions, promote equity and encourage data sharing, among other goals. The companies include: BlaBlaCar, Citymapper, Didi, Keolis, LimeBike, Lyft, Mobike, Motivate, Ofo, Ola, Scoot Networks, Transit, Uber, Via and Zipcar.
City streets are a finite resource that are getting increasingly congested and polluted. The 15 companies that signed the principles have a massive impact on how people live, work and play in cities across the world. Together they account for 77 million passenger trips per day and inform the travel decisions of 10 million people each day.
New technologies and modes of transport are already disrupting the status quo and changing the way people move. The pace of innovation is rapid and filled with opportunity, as well as risk, because decisions made today will lock in infrastructure for decades to come. The Shared Mobility Principles provide a clear vision for the future of cities and create alignment between the city governments, private companies and NGOs working to make them more livable.
The principles were developed by Robin Chase, Zipcar co-Founder, and a consortium of leading city and transport organizations including: the C40 Cities Climate Leadership Group, ICLEI – Local Governments for Sustainability, Institute for Transportation and Development Policy, Natural Resources Defense Council, Partnership on Sustainable Low Carbon Transport (SLoCaT), Transportation for America (T4America), Rocky Mountain Institute, Shared-Use Mobility Center, and WRI Ross Center for Sustainable Cities.
"For most cities, urban planners, legislators and residents, there is a cacophony of advice," said Chase. "Our goal is to align cities, the private sector and civil society around a shared vision to ensure we harness the good and avoid the bad of new business models and technologies. These companies represent some of the biggest players and we are thrilled to see we share common goals, like a commitment to zero-emission vehicles and efficient use of urban roads."
The Shared Mobility Principles for Livable Cities:
We plan our cities and their mobility together.
We prioritize people over vehicles.
We support the shared and efficient use of vehicles, lanes, curbs, and land.
We engage with stakeholders.
We promote equity.
We lead the transition towards a zero-emission future and renewable energy.
We support fair user fees across all modes.
We aim for public benefits via open data.
We work towards integration and seamless connectivity.
We support that autonomous vehicles in dense urban areas should be operated only in shared fleets.
To learn more about the principles, visit www.sharedmobilityprinciples.org.
COMPANY QUOTES:
"BlaBlaCar was founded on the belief that shared mobility can help meet travel aspirations in a resource-efficient way, whilst bringing people together," said Nicolas Brusson, Co-Founder & CEO at BlaBlaCar. "We are committed to the Shared Mobility Principles for Livable Cities, and to its group of stakeholders. It will take all of us thinking creatively and collaboratively together to transition to smarter mobility at scale."
"Didi is committed to working with communities and partners to solve the world's transportation, environmental and employment challenges using big data-driven deep-learning algorithms that optimize resource allocation," said Wensong Zhang, Senior Vice President and Chief Scientist at Didi Chuxing. "By continuously improving the user experience and creating social value, we strive to build an open, efficient, collaborative and sustainable transportation ecosystem."
"As a leader in public transport, Keolis has a solid foundation for the mobility of the future, which we see as being connected, autonomous, shared and electric. These elements are key to addressing the world's rapid urbanization, as we all strive to make life in cities more pleasant and liveable," said Bernard Tabary, CEO International at Keolis. "Through our diverse portfolio of mass transit solutions and on-demand transport services, our innovative approach is already benefiting many communities. This partnership with its guiding vision of more liveable cities comes at the perfect time. Keolis is a proud signatory and partner for this charter. We feel that we share a common vision with all those businesses involved to work tirelessly to deliver mobility solutions that enhance urban environments across the world."
"LimeBike is beyond excited to support the Shared Mobility Principles for Livable Cities; they map to our objectives as a company and our passion and mission as people," said Gabriel Scheer, Director of Strategic Development.
"At Lyft, we believe our cities should be built around people not cars. That's why we've committed to the Shared Mobility Principles for Livable Cities and are excited to join them in supporting policies that encourage shared rides, fair use fees, and truly multi-modal communities. Working together we can have a real impact on congestion, making our cities easier to get around and more enjoyable to live in." Joseph Okpaku, Vice President of Public Policy, Lyft.
"In cities around the world, people's lives improve significantly from the responsible expansion of shared transportation options including bikes, rides and cars," said Davis Wang, CEO and co-founder, Mobike. "As a group, we all have the same goal of improving quality of life in cities, and now, united, we have a framework for how our systems can collectively work toward this goal."
"At Motivate, we have always worked in close collaboration with cities to design bike share solutions that work for them and that reflect the priorities enshrined in the Shared Mobility Principles for Livable Cities," said Jay Walder, CEO of Motivate International, Inc. "No two cities — or even two neighborhoods — are exactly alike, and mobility providers need to understand the unique needs of distinct communities. But everyone can unite around the idea that cities need to move quickly to become more sustainable, more equitable, and more livable. The mobility sector has a key role to play in enabling that revolution, and we're proud to be at the forefront and to support this new partnership."
"At our core, ofo is committed to creating a more equitable, accessible world, and we know our greener, more affordable bike-sharing platform can have a significant and lasting effect, greatly transforming cities for the best," said Chris Taylor, head of North America, ofo. "As a leader in the dockless bike-sharing revolution, we're proud to join such an impressive group in signing onto the Shared Mobility Principles for Livable Cities, all equally as committed to improving lives and communities around the world."
"Ola, India's most popular mobility platform, shares and supports the vision of Shared Mobility Principles for Livable Cities. At Ola, we are committed to always building solutions that are smart and sustainable for our cities. We are on the mission of building mobility for a billion people and strongly believe that the future of mobility is shared, connected, and electric," said an Ola spokesperson.
"Scoot was created as a model of principled transportation and with the mission of offering Electric Vehicles for Everyone. Before launching the first mass-affordable, urban electric vehicle service, I was an urban planner, environmentalist, and advocate for open transportation data. I am proud that Scoot is joining with other new mobility services, local governments, and communities to make life in cities more livable," said Michael Keating, founder & CEO, Scoot Networks.
"From the start, Transit has promoted sustainable, equitable, open and connected transportation," said Jake Sion, COO of Transit. "Our mission is to make it easy to get around without your own car, so we integrate not only public transportation, but also the latest bikeshare, carshare and ridehail options. At a time when technology is evolving quickly, it's important to have a foundational set of values and a clear vision for the future. The Shared Mobility Principles for Livable Cities articulate that vision, and we are proud to endorse them."
"We're proud to support the Shared Mobility Principles for Livable Cities. At Uber, we believe the goal of reducing private car ownership is one we share with people and cities around the world. On its own, technology is not a solution for urban problems. But done right—and in partnership with others—we believe shared mobility has the potential to contribute to a better world for all," said Andrew Salzberg, Head of Transportation Policy and Research, Uber.
"As a leading technology developer and provider of on-demand, dynamically routed shared rides, Via is thrilled to endorse these principles," said Andrei Greenawalt, Vice President for Public Policy, Via. "We support policies that discourage the use of vehicles with only one passenger, and that incentivize true sharing. We also believe that to most effectively reduce congestion, free up space for better uses, cut greenhouse gas emissions, and improve livability, cities should only allow the operation of autonomous vehicles as part of shared fleets. We look forward to working with this group to ensure that advances in technology help transform our communities for the better."
"As a category-defining leader in shared mobility, supporting the principles is a natural fit for Zipcar. We have nearly two decades of experience managing a distributed, shared fleet and a seamless, integrated member experience that provides access to sustainable mobility. We have routinely partnered with both public and private entities to further our vision of a shared mobility future," said Justin Holmes, director of corporate communications and public policy, Zipcar. "At Zipcar, we are driven by a mission—to enable simple and responsible urban living—and we believe that by joining together with this coalition, we can better realize our common goal of shared, autonomous, sustainable and equitable mobility for all."
About BlaBlaCar
BlaBlaCar is the world's leading long-distance carpooling platform – a global, trusted community of 60 million drivers and passengers in 22 countries. The site and mobile apps connect people looking to travel long distances with drivers going the same way, so they can travel together and share the cost. Each passenger makes a fair contribution for their seat, and drivers cover their driving costs but do not make a profit. The platform is engineered to create a secure, trust-based community with declared identities and full member profiles. Members can even specify how chatty they are from "Bla" to "BlaBlaBla," hence the name BlaBlaCar. For more information, please see: www.blablacar.com
About Citymapper
Cities are complicated. Citymapper uses the power of mobile and open transport data to help humans survive and master them. We're reinventing the transport app, building it for commuters and their daily needs, one single app for all the different use cases and challenges of city life. We're also reinventing the bus for the smart city era. www.citymapper.com
About Didi Chuxing
Didi Chuxing is the world's leading mobile transportation platform. The company offers a full range of mobile tech-based mobility options for over 450 million users, including Taxi, Premier, Express, Hitch, Luxe, Bus, Minibus, Designated Driving, Car Rental, Enterprise Solutions and Bike-Sharing. In addition to its 25 million daily rides, DiDi leverages its AI capabilities to help cities develop smart transportation solutions. In 2016, Didi was included in Fortune's Change the World list, and named one of the World's 50 Smartest Companies by MIT Technology Review. In 2015, DiDi was named as a Davos Global Growth Company." www.didichuxing.com/en/
About Keolis
Leading the way in public transport, Keolis partners with public decision makers to make shared mobility an asset for cities and their communities. Internationally recognised as the leading operator of trams and automated metros, Keolis adopts a determined innovation approach with all its partners and subsidiaries (Kisio, LeCab, EFFIA, Keolis Santé and Cykleo) to develop new forms of shared and customised mobility, and reinforce its core business across a range of transport modes including trains, buses, cars, trolleybuses, shared private hire vehicles, river shuttles, ferries, cycles, car sharing services, electric autonomous vehicles and urban cable cars. In France, Keolis is now the leader in medical transport services through the creation of Keolis Santé in July 2017 and positioned as the number two car park operator, through its subsidiary EFFIA. www.keoliscs.com
About LimeBike
LimeBike is revolutionizing mobility in cities and campuses by empowering residents with a greener, more efficient, and affordable transportation option that also improves urban sustainability. By partnering with local key stakeholders and systematically deploying a fleet of smart bikes that are enabled with GPS, wireless technology, and self-activating locks, LimeBike is improving urban mobility by making the first and last mile faster, cheaper, and healthier for riders. Funded by Silicon Valley's leading VC firm Andreessen Horowitz, LimeBike is based in San Mateo, CA. Learn more at www.limebike.com.
About Lyft
Lyft was founded in June 2012 by Logan Green and John Zimmer to improve people's lives with the world's best transportation. Lyft is the fastest growing rideshare company in the U.S. and is available to 95 percent of the US population. Lyft is preferred by drivers and passengers for its safe and friendly experience, and its commitment to effecting positive change for the future of our cities. Learn more about our vision for the future of transportation and cities at go.lyft.com/revolution.
About Mobike
Mobike is the world's first and largest smart bikesharing company. Its mission is to bring more bikes to more cities, using its innovative technology to make cycling the most convenient and environmentally-friendly transport choice for urban residents. Using specially designed bikes equipped with GPS and proprietary smart-lock technology, Mobike enables users of its smartphone app to find a bike near them, reserve and unlock it, then complete their trip by simply closing the lock anywhere regular bike parking is allowed. The company officially launched its service in Shanghai in April 2016, and in just under two years, has expanded the service to over 200 cities in 13 countries globally. To date, Mobike users have collectively cycled over 18.2 billion kilometers, equivalent to reducing CO2 emissions by more than 4.4 million tons, or taking 1.24 million cars off the road for a year. In recognition of its transformative contribution to the advancement of low carbon public transport, Mobike was named among the 2017 Champions of the Earth by the United Nations Environment Programme (UNEP). For more information visit: www.mobike.com.
About Motivate
Motivate is North America's leading bike share firm, operating systems in eight cities including New York, Chicago, and the Bay Area. Since being acquired in 2014 by a group of investors, including the CEOs of The Related Companies and Equinox, it has successfully undertaken multi-year, major expansions in both New York and Chicago, and launched Nike's BIKETOWN in Portland. After integrating with 8D Technologies in early 2017, Motivate has also been building its in-house product portfolio, beginning with the Motivate bike. We have been working closely with vendors — themselves some of the leading names in bike share — to develop products including new docking mechanisms, eBikes and smart bikes. Led by a group of seasoned urban visionaries, creative leaders and technology innovators, our mission is to revolutionize the landscape of our cities. In an effort to completely transform the urban experience, Motivate is leading the way in making cities more accessible, healthier and sustainable. We create safe and dependable systems that help make cities great by connecting individuals to the people and places they love. www.motivateco.com
About ofo
Founded in 2014, ofo is the world's original and largest station-free bicycle-sharing platform. ofo was created for sharing and aims to unlock every corner of the world by making bikes accessible to everyone. To date, ofo has connected users to more than 10 million bikes in over 250 cities across 21 countries, generated more than 32 million daily transactions and has provided over 200 million global users with 6 billion efficient, convenient and green rides. ofo partnered with the UN Development Programme in April to achieve the Sustainable Development Goals, and launched a partnership with Rihanna's Clara Lionel Foundation in August, in which ofo donate bicycles to girls living in Malawi in need of a safe way to get to school. In collaboration with the JJ Barea Foundation, ofo donated 600 bikes to Puerto Rico in support of hurricane relief efforts to provide greater mobility for those in need. To learn more, visit www.ofo.com.
About Ola
Founded in 2011 by Bhavish Aggarwal and Ankit Bhati, Ola is one of the world's largest ride-sharing companies. Ola integrates city transportation for customers and driver-partners onto a mobile technology platform ensuring convenient, transparent, and quick service fulfilment. Ola is focused on leveraging the best of technology and building innovative solutions ground-up, that are relevant at global scale. Notably, in 2016, Ola Play the world's first connected car platform for ride-sharing was launched, transforming commuting experiences and setting the tone for global innovation in this space. Beyond offering a highly personal experience for users during their rides, Ola Play also allows its partners like Microsoft, Apple Music, Sony Liv amongst others, to build a high quality interactive and productive experience for its users. Using the Ola mobile app, users across 110+ cities, can connect with over 1,000,000 driver-partners across cabs, auto-rickshaws, and taxis. Driven by a hyperlocal approach, Ola is committed to its mission of building mobility for a billion people. www.olacabs.com
About Scoot Networks
Launched in 2012, Scoot Networks is the world's first urban light electric vehicle service. Shared light electric vehicles, including scooters, bikes, and small cars offer a sustainable solution to cities' parking, traffic, and pollution challenges. By offering access to electric vehicles for just a few dollars per ride, Scoot's tens of thousands of riders have travelled over 4,000,000 zero-emission miles, preventing upwards of 4 million pounds of CO2 from entering Earth's atmosphere. Riders locate, reserve and unlock scoots using the Scoot app, and can park their scoot anywhere in the Scoot service area. Scoot is expanding into new cities in 2018 and will be offering new vehicle types, including e-bikes to two-seat, electric micro cars. For more information, visit: scoot.co.
About Transit
Transit solves the urban commute in over 130 cities worldwide. Right on launch, the app displays all nearby transport options and departure times in big text and bright colors. Users can easily navigate public transit with accurate real-time predictions, simple multimodal trip planning, and step-by-step navigation. The app also integrates other sustainable transport modes — including bikesharing, carsharing and Uber — so users can determine the best way to get from A to B. With millions of active users, Transit has emerged as the leading public transport app in North America. The company is based in Montreal, QC. You can learn more by visiting www.transitapp.com
About Uber
Uber's mission is to bring transportation — for everyone, everywhere. We were founded in 2009 to solve an important problem: how do you get a ride at the push of a button? More than five billion trips later, we've started tackling even greater challenges: making transportation safer with self-driving cars, delivering food quickly and affordably with Uber Eats, and reducing congestion in cities by getting more people into fewer cars. www.uber.com
About Via
Via is re-engineering public transit, from a regulated system of rigid routes and schedules to a fully dynamic, on-demand network. Via's mobile app connects multiple passengers who are headed the same way, allowing riders to seamlessly share a dynamically-routed vehicle. First launched in New York City in September 2013, the Via platform currently operates in New York City, Chicago, and Washington DC, providing over 1.5 million rides per month, and is growing rapidly. Via also licenses its revolutionary on-demand transit technology to transportation operators, and partners with cities and transit authorities globally. See www.ridewithvia.com.
About Zipcar
Zipcar is the world's leading car-sharing network, driven by a mission to enable simple and responsible urban living. With its wide variety of self-service vehicles available by the hour or day, Zipcar operates in urban areas and university campuses in over 500 cities and towns across Belgium, Canada, Costa Rica, France, Iceland, Spain, Taiwan, Turkey, the United Kingdom and the United States. Zipcar offers the most comprehensive, most convenient and most flexible car-sharing options available. Zipcar is a subsidiary of Avis Budget Group, Inc. (Nasdaq: CAR), a leading global provider of mobility solutions. More information is available at www.zipcar.com